Podcast: Play in new window | Download
S03 Ep01 – Playing records for Wanda Jackson
Interview Date: August 23, 2012 @1pm EDT
Special Guest: Wanda Jackson –  has been called "The Queen of Rockabilly" and is by all accounts a Rock'n'Roll legend – she has a distinct style in both Rockabilly and Country (often bouncing between both styles on the same record). Credited as being the first women to record a Rock'n'Roll single; Wanda Jackson is a crucial figure in the Rock genre and the feminist movement.  In this podcast we talk about her first radio show, playing  Bob Neals 8th Anniversary Jamboree on August 5, 1955 in Overton Park Shell, Memphis, Tennessee, and the day Elvis and her talked about switching her style to Rockabilly to fit the new demographics coming of age (teenage kids with enough money to buy their own music).
Wanda Jackson has some "Unfinished Business" she needs to get off her chest; her new album is out October 9 and is produced by Justin Towns Earle (Steve Earle's Son) on Suger Hill Records. Check out more at: http://www.wandajackson.com/
The Royalty of Rockabilly
Bill Haley, of  course. Out of Detroit, and spearheaded the popularity of rock with Shake, Rattle and Roll, and Rock Around the Clock. He didn't look the part, but he had a wild history. More rock than rock. If you're not familiar with him, you should do that, and quickly, if you like music. He didn't just come out of nowhere, he had a successful thing with western swing.
Elvis Presley. Sam Phillips of Sun Records struck gold releasing "That's Alright Mama".  Elvis fit the mold of what Phillips was looking for in a white boy who could sing black. They changed everything again in music. Too good looking and talented to stay working as a truck driver, plus it's hard to shake your hips driving a truck.
Little Richard. Unbelievable energy, and the inspiration for several legends after him Including Bob Dylan, James Brown, The Beatles, Jimi Hendrix, Led Zeppelin, The Rolling Stones, and Michael Jackson. "Tutti Frutti" started it all off, and wasn't even intended to be recorded during the session. He did what he wanted and quit rock and roll to pursue his calling into the priesthood.  He came back into music to sing gospel, for a while . . .
Chuck Berry. Influenced by T-Bone Walker, Berry played blues and some ballads, but his country playing got him labeled as the black hillbilly.  His hybrid style launched him to one of the top acts of 1956.
Buddy Holly. Also the progenitor of the rock band standard with two guitars, bass, and drums. A real rock and roll rebel, who's career and life was cut short in the plane crash memorialized as the day the music died.
Fats Domino. Ambassador of New Orleans music in the 1950's, and great inspiration to John McNally of The Searchers. Do you get it yet? These are the great influences in music overlooked by time's passing. He admitted the lyrics weren't too deep, but he landed 40 songs on Billboard's  top 10 rhythm and blues between 1950 and 1961.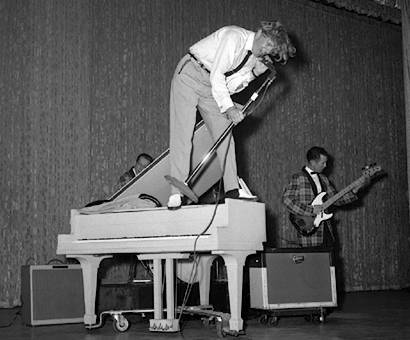 Jerry Lee Lewis. The Killer. The bad boy. He put everything he had into his performances. He became known nationwide in 1957 with "Whole Lotta Shakin' Goin' On" then had successive hits with "Great Balls of Fire" and "Breathless."
Roy Orbison. With such talent and such a dynamic voice, he could do nearly anything and any style. Almost to his detriment; it took a time and a few different labels for Orbison to find his place and start churning out the hits. But once he did, he was off. And off again in the 1980's with his resurgence.