Podcast: Play in new window | Download
S02 Ep14 (Part 1 of 2) – Touching on some double meanings with Mary Wilson
Interview Date: August 6, 2012 @ 1pm
Special Guest: Mary Wilson – One of the founding members and the only consistent artist of The Supremes. The Supremes were Motown's biggest stars,  having 12 number one hits in five years. In this interview we talk about what it was like growing up in Detroit in the 1950's, the early years as the Primette's, the songs "Paper Baby", "Butter Popcorn", and how the girls decided on the name "The Supremes."
The perfect storm of Motown
Berry Gordy Jr. and Motown. It's a remarkable story, and one with a great deal of controversy, but if that aspect of the story can be put aside, it can seen much more clearly what a great positive aspect that Motown had on the history of America and of music in general. Ironically, it was the unequal distribution of funds inherent in the music industry that contributed largely to the birth of Motown. Starting out by writing songs, and having "Lonely Teardrops" become a commercial success for Jackie Wilson, but Gordy himself not receiving much funds or credit, he decided to put his attention towards producing. Had he been sufficiently rewarded for his songwriting, he may have continued to keep his efforts only to that and Motown might have never been.
Spurred to build his company, Berry Gordy Jr. looked to find what he had around him. He had to have known his town and a good ear for music. Motown owes a great deal to the excellent music program in Detroit's schools. Gordy's openness to sign new, untested performers led to initial success. Apparently, he learned from the automotive production line he where he worked for a time; taking a base and adding to it to produce a polished product at the end of the line. He is part of the American spirit that gathers the unrefined resources at hand and fashions them into a new construct, one that serves the people and fuels the appetite for more.
Berry Gordy developed the Motown sound. It sold and grew into an empire.
Motown was the second record label Gordy started. With his first label, Tamla, he had signed The Miracles (which included Smokey Robinson) which carried over to Motown, and they had quick success and became one of Motown's first and
most successful acts. But Gordy was open to signing female artists as well including Mary Wells, who approached him initially with a song she had written intending to have Jackie Wilson record. Gordy, recognizing her talent signed Wells as a singer. She became so successful and helped build Motown, she earned the title of "The Queen of Motown." And with signing The Supremes, Gordy had a band that would equal the Beatles in terms of worldwide recognition. Although at the first encounter, Gordy turned them away thinking that they should finish high-school first before seeking success as recording artists. The Supremes disregarded his advice and released a record under their initial band name, The Primettes, with the Lu Pine label. This record, plus their continued presence at his studio, Gordy agreed to sign the band under the name The Supremes.
With Mary Wells, The Temptations, and the Supremes and through his efforts, Gordy signed acts that landed Motown its first hits such as The Contours, Martha and the Vandellas, The Temptations, and The Four Tops. All of whom helped define the Motown sound.
There aren't many places and times where such a company and acts would have been able to succeed to such a degree. Detroit itself had a significant advantage with the productive auto industry fuelling the city, and there was more tolerance in the north than in other parts of the states. The timing was right as well. Ten years earlier, its very doubtful enough people would have been so accepting to allow it to be profitable, at least not to degree of success that Motown came to enjoy.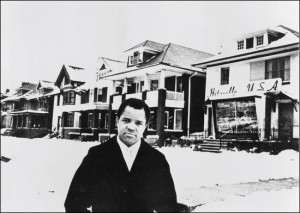 But Gordy had an ear for talent, and developed his marketing and production skills. It might have only been the industrial northern United States that would have allowed music to break the colour barrier, but once it gained a foothold, it quickly spread to the other corners of the states and onwards to the modern music markets around the world spreading their success and joy of music and forever changing the face of music the world over.